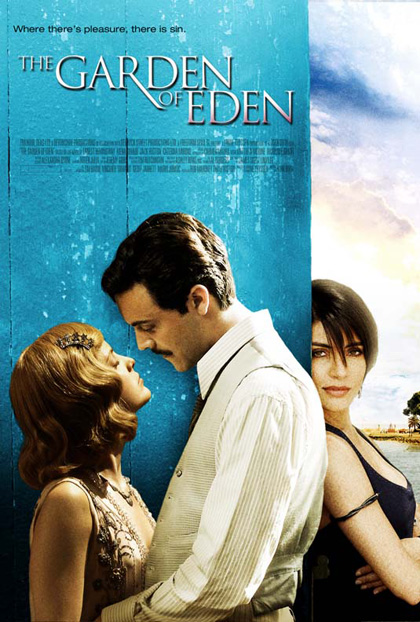 The Happiness Of The Garden That A Man Must Lose: An interview with screenwriter James Scott Linville
Recently, hiding from the chill of the Manhattan winter in the lobby of the Algonquin Hotel, I had tea with screenwriter James Scott Linville. Linville, an American who lives in London, is a former managing editor of the Paris Review. His adaptation of Ernest Hemingway's Garden of Eden − Linville's first produced screenplay − was released March 15 on DVD in the US through Lions Gate.
The film recreates the sun-blanched milieu of the Lost Generation at play between the wars. On an extended honeymoon on the Cote D'Azur, Catherine (Mena Suvari) draws her writer husband David (Jack Huston) into androgynous sexual role play. They soon have identical bleached blonde haircuts and are the scandal of the season. David, a less macho Hemingway hero than we're used to, doesn't put up much resistance. Catherine then seduces the smitten Marita (Caterina Murino), a beautiful Italian heiress, and offers her to David as a part-time mistress. This time-share arrangement soon dissolves as Catherine drifts into madness and David and Marita grow close. Interpolated into this narrative is a dramatization of David's work-in-progress, a short story based on a childhood elephant hunt in Africa with his father (Matthew Modine).
Colonel Boyle, a World War I pilot and David's former comrade, is played by Richard E. Grant. "He's astonishingly good," said Linville. Boyle appears only in passing in the novel, but Linville expanded the role to three scenes. "I liked Colonel Boyle because he was a bit of an outsider, stepping in and quickly getting the lay of the land." The Boyle role turned out to be useful in raising money for the project. "The producer told me, 'Inadvertently you created a cameo for a star. We will pay him to come in for four days, but his name will be up there.'" Linville smiled. "I had no idea. It was luck. But it was also a great education."
Linville's literary background helped in unexpected ways. He had worked on many Paris Review author interviews in the 1980s and 1990s with George Plimpton (Plimpton had famously interviewed Hemingway for the journal in 1958). Linville learned firsthand Plimpton's techniques of "fiddling" with transcribed speech for print. The reverse was necessary when transforming Hemingway's laconic dialogue for the screen. "Even if a line reads well on the page," Linville said, "it's not necessarily going to sound right in the actor's mouth."
Hemingway's novel was controversial not just for its preoccupation with androgyny when published posthumously by Scribner's in 1986. The 247 page book had been created by editor Tom Jenks from a much longer, more ambitious unfinished manuscript Hemingway worked on during his last fifteen years. A long manuscript analysis in Rose Marie Burwell's Hemingway: The Post-war Years and the Posthumous Novels (1996) indicates how much of Hemingway's original conception was excised, including an entire mirror plot about a painter named Nick Sheldon and his wife Barbara.
I asked Linville if he made a trip to the Hemingway Archive at the JFK Presidential Library in Boston to read the purported 1500 pages of raw manuscript. He said no. Firstly, Jenks had told him the published book was very close to one version of the manuscript. "The other thing is I was given the commission and had to start three days later on Monday. The clock was ticking on some equity that could be put into the production, and I had to finish and lock a script to go out to actors by a certain date," said Linville. "I approached this as somebody who loves the writer's work, loves this book, not as an academic."
The film was not well-reviewed when released theatrically last December. Linville said, "In some ways people have been arguing with Hemingway. They're arguing with the movie because it's Hemingway taking his themes and turning them upside down, examining them, taking them apart." The novel, like several other posthumously published works, suggests that late in life Hemingway was reconsidering his core beliefs. "There are scenes of hunting but the lead character of the subplot is making an anti-hunting argument."
"When the book came out it got wonderful reviews from James Salter, E. L. Doctorow, and John Updike. At the same time it sold millions of copies. Why is there slightly less respect for the book now? I don't quite understand. In some ways Hemingway is somewhat out of fashion. He was even more so at the time the book came out and that was why there was such a startling reassessment." Linville added: "I think The Garden of Eden is one of his most interesting books. It might be his best about a writer writing."
John Irvin (Hamburger Hill and Tinker, Tailor, Soldier, Spy) directed the picture. Linville joined the cast and crew on location in the Alicante province of Spain. The small city of Alcoy doubled for 1920s Madrid. Hemingway's immeasurable gift for evoking the physical qualities of a landscape is beautifully translated to film by cinematographer Ashley Rowe.
Linville praised Mena Suvari's "brave performance" and called the Italian actress Caterina Murino, who previously appeared in Casino Royale (2006), "a revelation. She's considered a Bond girl but she's a wonderful actor, extremely refined, very beautiful. You're seeing a young Sophia Loren. She's been in a lot of French movies but none have come out in the United States. I think this movie should probably be remembered for introducing her."
With a new Raymond Chandler adaptation recently completed, Linville faces the possibility of another Hemingway project. The Garden of Eden and its unusual history still fascinates him. "Mena Suvari was very curious and did a great deal of research for the part. She wants to go to JFK and read the original." He laughed. "Maybe we'll all go on a field trip."